St Mary's Infant School Newsletters
Friday 20th April 2018
Dear St. Mary's Parents and Carers,
Welcome back to the final term of the school year.
Easter
On Monday the Infant School found out that whilst they had been away on holiday the Easter Bunny had visited. He was very sorry to have missed them but he did leave them all an Easter egg hidden in the garden. After they had hunted down their eggs they paraded their very beautiful hats at the end of the school day in our annual Easter Bonnet Parade.
For those of you who were unable to attend I have included a photo.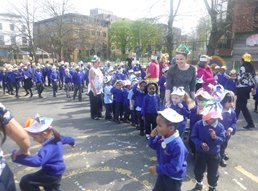 St Bernadette
Even though Monday was very busy St. Bernadette's class still remembered it was their feast day and visited the church to give thanks.
Shape Week
Our Infant School Council have been continuing to find ways to help people less fortunate than themselves and they have decided that next week should be shape week. They will send their own explanation letter to you, so please look out for it in your child's book bag.
Important Dates for your diary
Monday 7th May –Bank Holiday School closed
Friday 18th May—Friends of St Mary's Meeting
Wednesday 23rd May—Year 2 visiting Alyesford Priory
Friday 25th May—St Mary's Feast Day celebration
Half term break—Monday 28th May to 1st June
Monday 4th June– School closed for staff training
Wednesday 6th June—Nursery visiting Ladyland Farm
Thursday 7th June—Year 1 and Year 2 Sports Day
Friday 8th June Early Years Sports DayWeek beginning
11th June—Year 1 Phonics Screening week and Fathers' Week
Tuesday 12th June—Reception visiting Brighton Sealife Centre
Tuesday 19th June—St Bernadette visiting Heathfield Ecology Centre
Tuesday 26th June– St Therese visiting Heathfield Ecology Centre
Friday 29th June—International Afternoon Tea
Tuesday 3rd July—Happy School Bag clothes Collection
Tuesday 10th July—Reception vision screening
Friday 13th July—Reception vision screening
Tuesday 17th July—Reception graduation
St Andrews –9.30 a.m.
St George—2.30 p.m.
Thursday 19th July—Year 2 Leavers' Mass
Friday 20th July –last day of term.
Please follow us on Twitter: @MaryCroydon
Have a very happy weekend,
Miss O'Callaghan
Headteacher